News
Cyber Info + Clicked: Empowering Cybersecurity Careers Through Immersive Learning Experiences
Unlock your cyber career with Cyber Info + Clicked! Experience hands-on, engaging cybersecurity learning for all levels. Join us and take your career to the next level!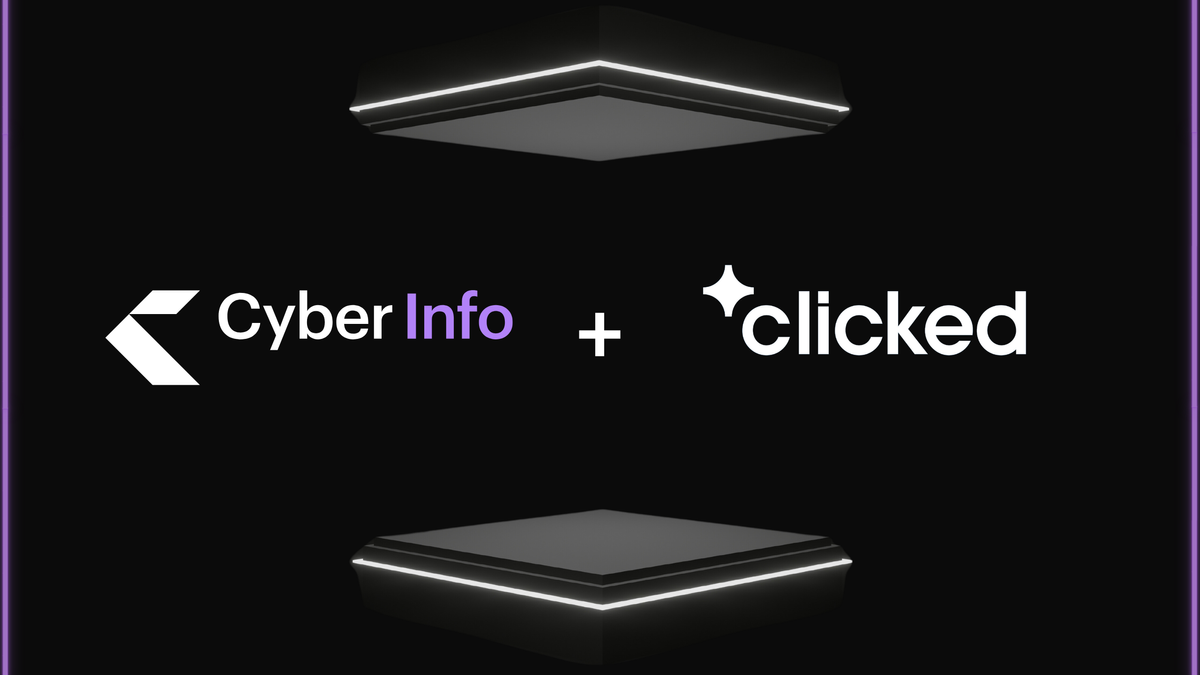 Howdy, folks! We've got some fantastic news for you. Cyber Info and Clicked are teaming up to bring you more incredible learning experiences!
Clicked is all about making learning a blast, and they're bringing their A-game with FREE, live learning sessions that are anything but dull. Think real-world experience in a collaborative environment led by some of the best minds in the cybersecurity industry. (Did we mention it's free?) Whether you're a seasoned professional or just getting started in information security, Clicked has experiences in store for everyone.
And guess what? Clicked is sponsored by IBM® SkillsBuild®, empowering them to deliver top-notch learning experiences to you at no cost:
Tag along with cybersecurity experts and see them in action.
Get your hands dirty with some real-world skills-building.
Put together a killer portfolio that'll make employers sit up and take notice.
Meet and collaborate with folks just as cybersecurity-focused as you.
Upcoming Events You Can't Miss!
Ready to roll up your sleeves? Clicked has the following events coming up soon:
Vulnerability Assessment as a Security Analyst Team Sprint
Nov 28 - Dec 14, 2023 | Live sessions 12 PM PDT / 2 PM PST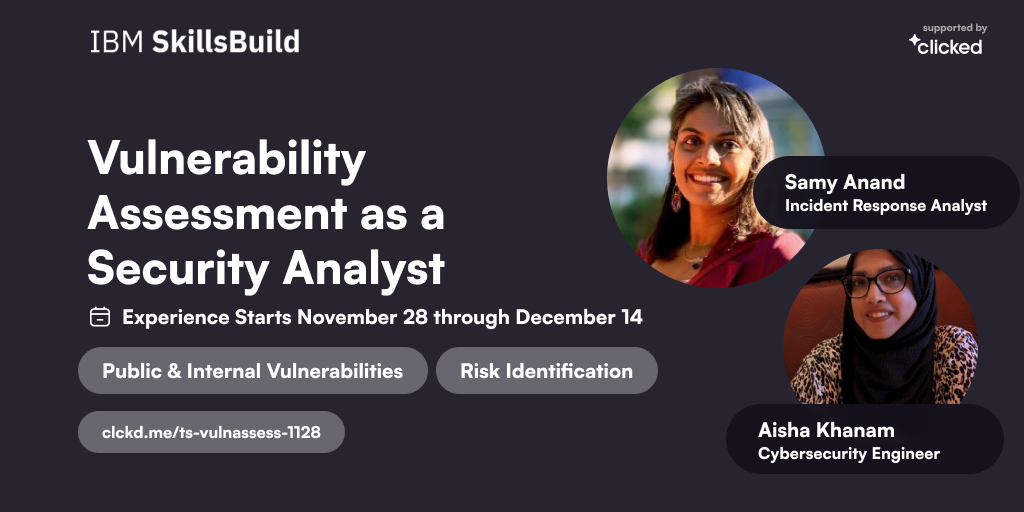 Cybersecurity firms are often hired to perform both internal and external vulnerability assessments for technology companies. Over the course of three weeks, you'll work closely with a team to conduct both an external and internal vulnerability scan and then deliver a report to a client looking to secure their data and their practices based on the results you provide.
Third-Party Security Controls Mini Sprint
Dec 5 - 15, 2023 | Live Sessions 12:30 PM PDT / 1 PM PST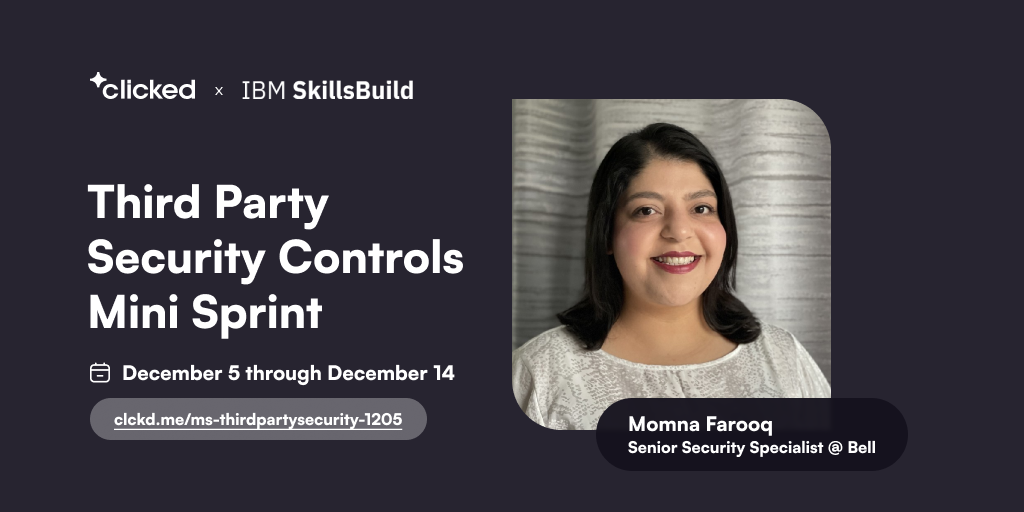 You will perform a critical review of SaaS software options for implementation within a company. Following this review, you will develop a disaster recovery plan, ensuring that the company's operations can be swiftly restored with minimal loss in the event of a catastrophic incident related to this software.
Assessment & Risk Prioritization Mini Sprint
Dec 4 - 15, 2023 | Live Sessions 1 PM PST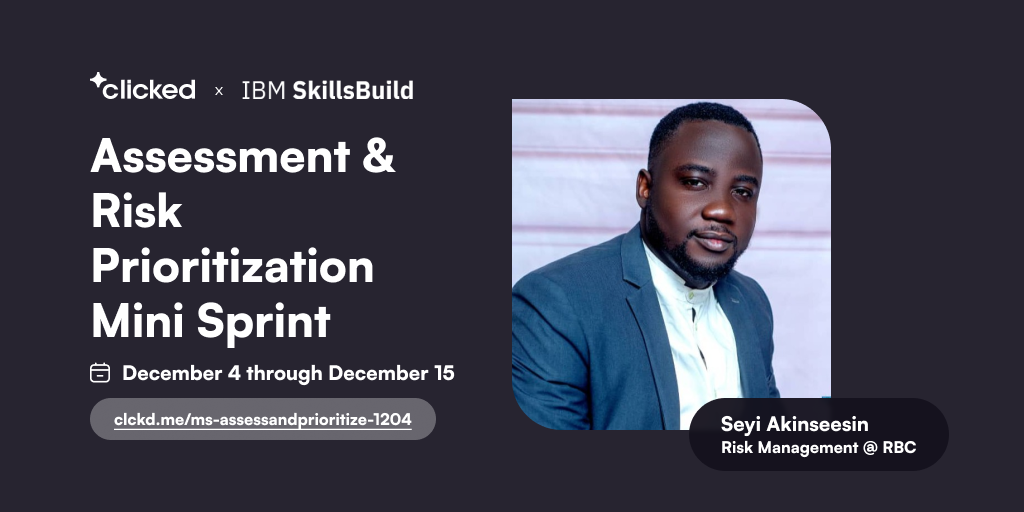 You will assume the role of a Security Analyst, tasked with assessing and prioritizing risks for a business facing cybersecurity challenges. This will involve conducting stakeholder interviews and undertaking independent research with a focus on risk prioritization.
Get In On the Action
It's super easy to take your cybersecurity education to the next level with Clicked:
Sign up: Register with Clicked!
Get set up: Jump on their learning management system and pick your first adventure.
Learn and have fun: Immerse yourself in hands-on learning experiences.
Clicked is all about learning together, taking chances in a no-stress zone, and having a blast while you're at it. So what are you waiting for? Go explore, practice, and turbocharge your cybersecurity career.
Want to share your learning experiences? Come hang with the Cyber Info community on our Discord server!
---
Cyber Info's partnership with Clicked is purely community-driven, with no financial incentives involved, and our commitment to advancing cybersecurity education unites us.
---
IBM® and SkillsBuild® are trademarks of the International Business Machines Corporation