News
Cyber Info + ANY.RUN: Elevating Cybersecurity Learning Together
ANY.RUN elevates Cyber Info's mission with hands-on malware hunting, merging real-world learning with expert insights.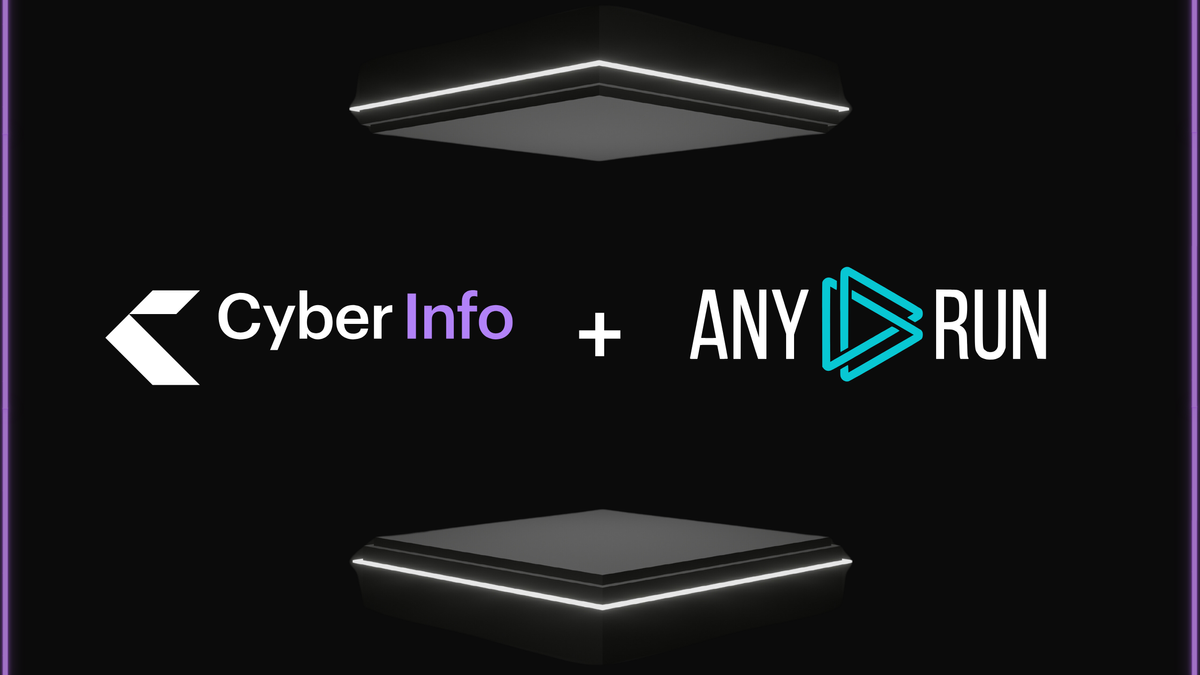 Big news in our cybersecurity community! ANY.RUN, the interactive malware hunting service, is stepping up its partnership with Cyber Info to bring an unparalleled learning experience to all cybersecurity enthusiasts and professionals.
With ANY.RUN, it's like having a front-row seat at the heart of a cybersecurity incident—without the risks. Imagine being able to poke around inside a malware outbreak, watch it unfold, and intervene just like you would in the real world, but from the safety of a controlled environment. It's learning by doing, and it doesn't get better than this.
A Deeper Dive with ANY.RUN
ANY.RUN isn't your typical automated sandbox. It's interactive, which means you can navigate and explore fully, just as if you were dealing with live malware on a real system. It's a game-changer for understanding how malware operates and how incidents can escalate.
Real-Time Tracking for Real Learning
You don't just launch a file and wait—you're part of the action. ANY.RUN lets you track every little thing the malware does in real-time. From process creation, registry activity, network requests, and more, you're not just observing; you're actively participating and learning from the moment you hit "run."
Learn from the Best
With a global community of researchers contributing to their threat intelligence database, ANY.RUN offers insights into the latest threats the moment they pop up. This means you're not just learning about yesterday's malware; you're at the cutting edge, ready to tackle today's digital threats head-on.
Threat Intelligence at Your Fingertips
ANY.RUN doesn't just show you how to hunt threats; it gives you the tools to stay ahead of them. Their threat intelligence feeds, full of the latest malicious IPs, URLs, and domains, are designed to keep your security systems sharp and responsive.
Collaborative Power
ANY.RUN is all about empowering Cyber Info's mission: making cybersecurity education easily accessible and incredibly practical. Now, with our powers combined, ANY.RUN is ready to share its top-notch malware-hunting tech and expertise with learners at every skill level.
The Future of Cybersecurity Education
We're not just talking about watching videos or reading articles. We're talking about diving into the digital trenches, guided by the pros, and coming out with the kind of knowledge that makes a difference in the real world.
Ready to join the hunt and boost your cybersecurity skills to new heights? ANY.RUN and Cyber Info are here to equip you with the knowledge, the tools, and the hands-on experience to do just that. Stay tuned for more updates on our exciting partnership!
Join Our Communities on Discord®
---
Cyber Info's partnership with ANY.RUN is driven by our shared community-driven goals, not financial incentives, ensuring our commitment to providing open and high-quality cybersecurity education remains our top priority.
---
Discord® is a trademark of Discord Inc.