Deals
Empower Your Malware Analysis Toolbox with ANY.RUN's Black Friday Deals!
Join ANY.RUN's Black Friday deal on Discord: 50% off the Ranger plan. Boost your cybersecurity skills with us!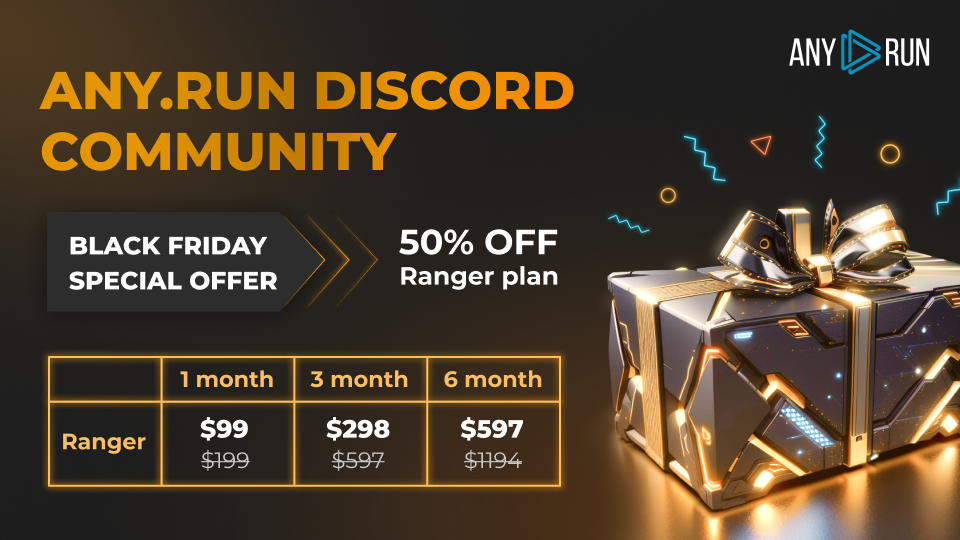 ANY.RUN is rolling out an exclusive Black Friday offer for Discord® community members: get a 50% discount on the Ranger plan. This special deal is available until November 26, 2023, so don't miss out!
Deals Aligned with Our Mission
Our partnership with ANY.RUN is about more than just great offers—it's about providing the tools and experiences that enrich your cybersecurity education. This Black Friday, we're excited to share a deal that mirrors our mission: to make cybersecurity education and resources more accessible for everyone.
Get 50% off the Ranger plan
To claim this offer, join our Discord server and check the announcements and partners channels for discounted links!
Also check out the ANY.RUN Discord server!
---
Cyber Info's partnership with ANY.RUN is driven by our shared community-driven goals, not financial incentives, ensuring our commitment to providing open and high-quality cybersecurity education remains our top priority.
---
Discord® is a trademark of Discord Inc.